560 words ~ 3 minute read
SUMMARY
Introverts bring unique strengths to the workplace, including increased focus, productivity, and deep thinking abilities that stem from their comfort with solitude and their highly active brains, even at rest.
Despite the perception of extroverts as better leaders due to their assertiveness and social ease, introverts often prove to be superior in leadership roles. Their natural predisposition towards listening, empathy, and forming deep connections is highly valued and, in fact, impressed investors the most in a study involving over 900 CEOs.
For introverts to thrive in the workplace, an environment that respects their need for solitude and flexible communication styles is crucial. Spaces for quiet reflection, allowing written communication, and providing time for thoughtful responses can help introverts stand out and contribute their best ideas.
Are you an extrovert? An introvert?
While this question may seem highly personal, your answer provides clues about how you lead, work in teams and engage with others. For years, many have believed that extroverts have the edge in the workplace. After all, extroverted individuals appear more outgoing, talkative and energetic, while introverts seem more reserved, reflective and less social. However, psychologists have been looking more closely at this preconception and theorizing that the introvert's quiet way may just be a misunderstood superpower.
The Added Brain Power of Introverts 
So, what are introverts doing while they are quiet? They're thinking. Introverts, known for their intuition and powers of perception, have also been shown to have thicker gray matter than extroverts. Gray matter makes up 40% of the human brain and is associated with a person's ability to process information, learn, think and reason. Other studies have shown that even while resting, introverted brains are more active. 
Work often requires individuals to put in hours of solitary work, which can be tough on extroverts who find energy in the company of others. Introverts, on the other hand, have a life-long discipline of spending time alone and may surpass their extroverted peers in focus and productivity, according to neuroscientist Friederike Fabritius. 
Introversion and Leadership 
Perhaps it's not surprising that introverts are more focused and productive at work. But what about the work of leading others or building client-facing relationships?
This question is the focus of a Harvard Business Review article called "Can Introverts Thrive in Extraverted Careers?" Karl Moore and William Li, the article's authors, found that while introverts need to develop skills around certain social behaviors like speaking up and meeting new people, their natural strengths in listening, empathy and the ability to make deep connections are valuable assets that make introverts especially effective at work.
Although we often find assertive extroverts impressive, Moore and Li report that you don't need a big personality to make a positive impression. In a study of more than 900 CEOs, it was the introverted personalities that impressed investors most. While extroverts land high-paying jobs at a rate of 25% higher than introverts, introverts are often considered the better leaders, according to Moore and Li.
Introverts Perform Best at Work When Expectations Are Flexible 
While it may seem anti-social, it's both normal and positive for people to spend breaks and lunches alone. Since introverts often feel drained after social activity, alone time allows them to recharge—which is good for them and everyone else.
Introverts may also thrive when given the option to communicate in writing instead of in person or on the phone. This practice is also true for giving introverts more time to think through questions and respond later in follow-ups. Some experts even suggest that group brainstorming is an outdated exercise because an introvert's best ideas may show up with reflection not in chaotic group settings. And since introverts are known for their keen observational and analytical skills, teams should do what they can to ensure they don't miss their prized ideas.
When it comes to hiring, recruiters encourage employers to look out for introverted types who may not be as loud as their extroverted counterparts. By ensuring a quiet, private space, planning extra questions and allowing for silence, hiring managers can ensure that high-quality introverts have the time and place to shine.
About The Greater Atlantic City Chamber
Since 1914, the Greater Atlantic City Chamber is dedicated in creating a favorable economic climate with meaningful services for the business community. Together we work to foster growth in the region's economy by creating a better business climate and a higher quality of life.
SCORE NJ is excited to offer a Business Pitch contest for Women-Owned Businesses and Women Start-Ups in New Jersey, with the goal of awarding TWO $4,000 Grants by May 18, 2023.
This event is brought to you by the Lester, Muriel and Edie Fraser Women Entrepreneur Fund for SCORE NJ.
There are 3 Steps to this Contest!
Step 1: Make sure you qualify to apply—your business must be in NJ and be registered with the state of New Jersey as of March 1, 2023.
Eligibility Criteria:
Your business must be in NJ
You must have registered the business or start-up with the State of NJ
Potential and existing business must be 51% woman owned
Non-profit businesses and those related to firearms, cannabis or marijuana products and adult entertainment are excluded
Step 2: All applicants and the semi-finalists will be notified the week of April 24 of the status of their application.
8-10 finalists will advance to the Pitch Round of the Competition
All finalists will be given a Pitch event outline for their presentations and the evaluation criteria for the Pitch event
Each finalist is required to work with a SCORE NJ Certified Mentor between April 24-May 12 to perfect their Pitch presentation
Presentations will be virtual via Zoom and approximately 20 minutes with some Q&A from the judging mentors
Step 3: The Pitch Competition.
The Pitch presentations will be held virtually during the week of May 15, 2023
A panel of SCORE NJ Certified Mentors from across New Jersey will serve as Judges
All Finalists will be given the opportunity to participate in local PR events and online social media promotions of the contest
The two winners will be announced May 18, 2023 and will be given online promotion across SCORE NJ social media venues*
(*By applying, you agree to allow this promotion)
How to Apply!
All Applications must be Submitted by 12 PM (Noon) EST Thursday, March 30, 2023. Application Deadline will be strictly enforced!
Application Evaluation Criteria:
Fully completed application with complete contact information
Describe your target market
Describe the market need
Define your competition and how your product or service competes
What makes your business unique
Estimated ongoing Revenue Potential
How will the Grant be used
All Women-owned existing businesses and Women-led Start-ups in New Jersey are encouraged to apply.
Download application and entry forms here.
The Arc of Atlantic County, in partnership with the New Jersey Division of Vocation Rehabilitation, and The NJ Commission for the Blind and Visually Impaired, will host a Targeted Hiring Event for Individuals living with Disabilities who are seeking full and part-time employment positions.
The event will be held on Thursday, March 16, 2023, 10:00 am to 2:00 pm at The Arc of Atlantic County's main campus, located at 6550 Delilah Road, Suite 101, Egg Harbor Township, NJ 08234.
Individuals who live with disabilities in southern New Jersey will have the opportunity to meet with area employers to explore job opportunities that are currently available. Registration is required.
To register, please email Irene Perez, Senior Vocational Rehabilitation Counselor Program Planning Development Specialist of the NJ Vocational Rehabilitation Services at Irene.Perez@dol.nj.gov by February 13, 2023, to reserve your spot or call 609.947.5807.
"We know that people with disabilities make great employees", commented, Scott Hennis, CEO, The Arc of Atlantic County. "We are excited to offer this opportunity for employers to connect with people living with disabilities as they work to fill openings in their workforce." Hennis added.
In addition to the job hiring event, several community partners will host resource tables with information on a variety of services available.
For more information, contact Mary Ruley Moyer, Director of Development and Community Outreach at 609-485-0800 ext. 135.
About The Arc of Atlantic County: The Arc of Atlantic County works to improve the lives of people with intellectual and developmental disabilities (I/DD) in our community. Through direct services, advocacy, education and prevention activities, we work in partnership with individuals and their families to make choices possible about how and where they live, learn, work and play. The Arc of Atlantic County serves nearly 800 individuals and their families annually and accredited by The Council on Quality and Leadership.
Contact: Mary Ruley Moyer Director of Development & Community Outreach
609-485-0800 ext. 135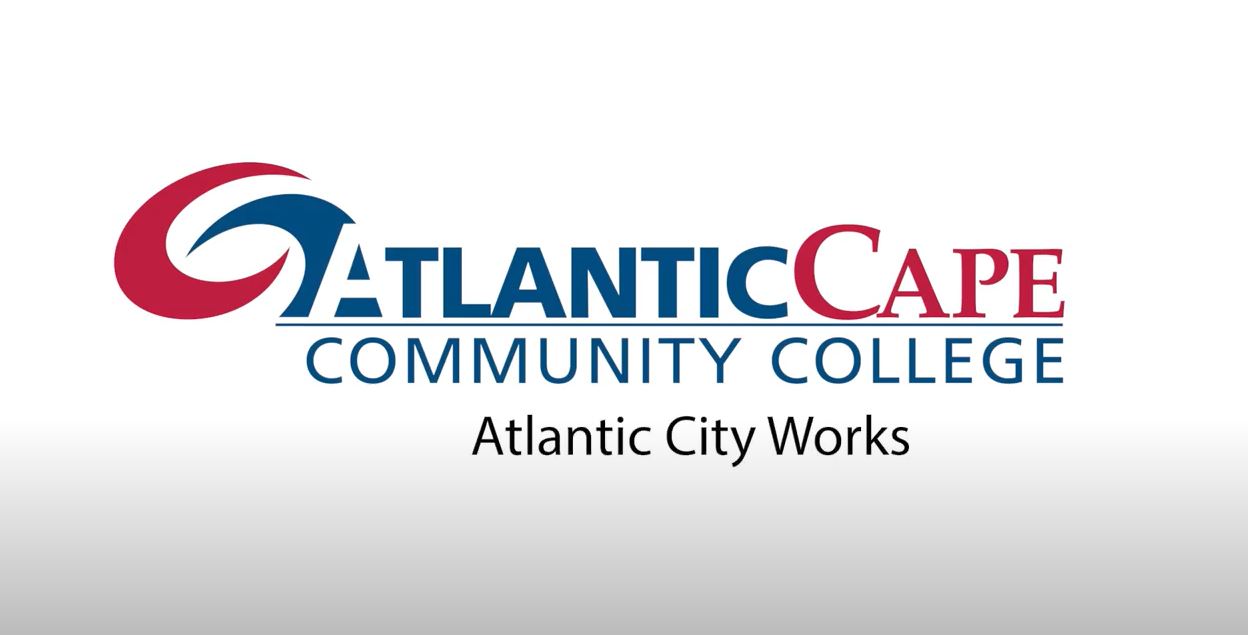 Atlantic Cape Community College has received a grant from the Casino Reinvestment Development Authority (CRDA) to run the "Atlantic City Works" free job training program. The funds will go towards helping Atlantic City residents who are unemployed or under-employed and will assist Atlantic City Casino employees who require additional training to maintain their employment or assist in advancement.
More than 20 certifications and workshops available to both groups, including:
Certified Clinical Medical Assistant (CCMA®) Hybrid; Certified Front Desk Representative (CFDR®); Certified Fundamentals Cook (CFC®); Certified Guest Service Professional (CGSP®); Certified Hospitality Supervisor (CHS®); Culinary and Cooking Professional Training Program; Customer Service for the Hospitality Industry; Emergency Medical Technician – Hybrid; English as a Second Language, Levels 1, 2 and 3; Foundations for Success, Adult Literacy, GED; Foundations for Success, Adult Literacy, Test Preparation; Leadership Series; Microsoft Excel for Managers and Supervisors; Microsoft Excel, Beginner; Microsoft Excel, Intermediate; Phlebotomy Technician (CPT®); ServSafe Food Protection Manager Certification; Table Games Dealer (Blackjack, Roulette, Baccarat).
Watch this brief video about the Atlantic City Works Program:
What is the Atlantic City Works Training Grant Program
Click the one minute videos below to learn more about some of these opportunities:
Certified Fundamentals Cooks Program
Culinary and Cooking Professional Program
"The Atlantic City Works" training program is an excellent opportunity for us to provide the residents of Atlantic City and the Atlantic City Casino employees with valued credentials, certificates, and skill enhancements," said Atlantic Cape's Senior Director of Workforce Development Sherwood L. Taylor.
Visit www.atlantic.edu/workforce for more information or email Ms. Karen McCormick at kmccormi@atlantic.edu
From social distancing to increased safety practices, 2020 has shifted the way we all do business. It's more important than ever to make the best decisions to save money and upgrade your business. Energy costs add up month to month, making switching to natural gas a cost-effective and energy-efficient way to save on operating costs. Boost your bottom line with safe, reliable, affordable natural gas.
With a focus on helping to make your business better, South Jersey Gas' knowledgeable Commercial Sales team is ready to be your business partner and help guide you through the process of switching to natural gas. Switching doesn't just save you money; it also gives you peace of mind. With no tanks to fill, natural gas is reliable and always ready to perform when you need it – no more worrying about running out of fuel or delivery schedules. Whether you are powering a restaurant, warehouse or other facility, your business will save when you switch to natural gas.
Along with saving money, you'll also save energy with this efficient energy source. South Jersey Gas Smart Energy Partners™ offers a suite of programs, exclusively for customers, to help your business conserve energy while saving money. With the SJG Direct Install program, small to medium size businesses can invest in high-efficiency equipment, including lighting, heating and cooling systems, refrigeration and more with 70% of your energy effi¬ciency upgrades FREE. Plus, you can finance remaining project costs with 0% financing (up to $130,000) through South Jersey Gas.
South Jersey Gas is here to partner with you to help your business save energy and money while enjoying the comfort and reliability of natural gas.
Get started by calling Christina today!
Christina Goess
Commercial Sales Representative
South Jersey Gas
1.609.850.1559
Serving Atlantic and Cape May Counties
The Greater Atlantic City Chamber, the Cape May County Chamber of Commerce and Cooper Levenson, Attorneys at Law hosted a free webinar entitled "Good News for Small Businesses Impacted by COVID-19 on Wed. April 8.
Topics included the "Coronavirus Aid, Relief, and Economic Security Act" or the "CARES Act" ("Act"), which was signed into law on March 27.
More than 180 attendees learned more about how the Act may help them remain operational and how they can determine if they qualify for relief. In this session, Cooper Levenson attorneys discussed the CARES Act and related issues, including the Paycheck Protection Program, the Economic Injury Disaster Loan Program (EIDL), and Financial Support for the Fishing Industry. Also discussed was Restructuring for Small Business and Chapter 12 Bankruptcy for Family Farmers and Family Fishermen. The general public was also able to view the webinar through Facebook Live, on the pages of both the Greater Atlantic City Chamber and Cooper Levenson.
Nicholas F. Talvacchia moderated the webinar. Jennifer B. Barr, Eric A. Browndorf, Jarad K. Stiles and Kevin J. Thornton served as panelists.
View the webinar video by clicking here.
Relief to New Jersey small and mid-sized businesses was announced on March 26 by the New Jersey Economic Development Authority ("NJEDA"). If this $75 million package of initiatives is followed by additional State, Federal, and philanthropic sources, it is expected to grow to more than $100 million. Attorneys from Cooper Levenson Attorneys at Law discussed  what the following approved programs mean to small businesses during a webinar on Wednesday, March 1, 2020.
Speakers:
Nicholas F. Talvacchia, Esq., Partner, Cooper Levenson, Attorneys at Law
Jennifer B. Barr, Esq., Cooper Levenson, Attorneys at Law
Jared Stiles, Esq., Cooper Levenson, Attorneys at Laws
Topics Covered:
Small Business Emergency Assistance Grant Program
Small Business Emergency Assistance Loan Program
Community Development Finance Institution (CDFI) Emergency Loan Loss Reserve Fund
CDFI Emergency Assistance Grant Program, including
UCEDC (United Counties Development Corp;)
GNEC (Greater Newark Enterprise Corp.)
RBAC (Regional Business Assistance Corp.)
NJCLF (New Jersey Community Loan Fund)
CBAC (Cooperative Business Assistance Corp.)
NJ Entrepreneur Support Program
Small Business Emergency Assistance Guarantee Program
Emergency Technical Assistance Program
US Small Business Administration (SBA) Economic Injury Disaster Loans (EIDLs)
The federal coronavirus stimulus package
Special Thanks to Versutia Solutions for providing technical assistance with the webinar.  Looking for peace of mind when it comes to IT for your Business?  Let the team at Versutia Solutions handle whatever comes your way. From hardware to software, or regular maintenance to emergency support, our team of experts can be there for you and your business.
Switching to natural gas is a great way to reduce your operating costs and boost your bottom line. In addition to saving money by lowering monthly energy bills compared to oil, propane and electricity prices, natural gas is efficient. Save money and conserve energy, every day when you choose gas. Whether you run a restaurant, warehouse or another facility, businesses save when they transition to natural gas.
Natural gas is delivered to your business safely and reliably allowing your business to continue running smoothly. It's always ready to perform when you need it so there's no need to worry about running out of fuel, refilling tanks or delivery schedules.
Small businesses in your community have already discovered the benefits.
"I've been a South Jersey Gas customer for years but was using oil to heat to my shop and it became too costly, so when I purchased another location with oil heat, I immediately knew I needed to change over to gas for savings and efficiency. The convenience of natural gas is unsurpassed – I never have to worry about running out. To top it off, my sales rep, Christina Stanley [Goess], made the whole process EASY!"
Joseph Berenato, Owner
Action Auto Body
Hammonton, NJ
"The process of installing commercial gas appliances was extremely easy, starting with my initial call to South Jersey Gas, all the way through the process of converting the kitchen to gas. My sales rep, Christina, was always professional, thorough, and informative – a great business partner."
Kurt Ohlson, Vice President Property Management
Career Opportunity Development Center
Egg Harbor City, NJ
South Jersey Gas provides natural gas services to small businesses throughout the region with a focus on helping make your business better. Our Commercial Sales team is available to help you make the best decision for your business.
Whether your business is already set up to receive service or you need to have service installed, we're ready to help you begin enjoying the comfort and reliability of natural gas.
Get started by calling Christina today!
Christina Goess
Commercial Sales Representative
South Jersey Gas
Serving Atlantic & Cape May counties
609.850.1559
This post has been sponsored by South Jersey Gas.