A sell-out crowd in the John F. Scarpa Academic Center on Stockton University's Atlantic City campus had the opportunity to capture the thoughts of regional leaders on the local, county, and state levels at the Greater Atlantic City Chamber of Commerce's annual "State of the Region" breakfast on September 19.
The panel discussion, moderated by journalist Matt Fazelpoor of NJBIZ, was a microcosm of the Atlantic County region with State Senator Vince Polistina, Atlantic County Executive Dennis Levinson, Absecon Mayor Kim Horton, who is also the president of the Atlantic County Mayors Association, and Dr. Oliver Cooke, associate professor of economics at Stockton University.
Fazelpoor asked each of the panelists to weigh in on how they have seen the region evolve over the past decade and the trends they see shaping and creating a sound footing for the future. Mayor Kim Horton said she appreciates the Federal Aviation Administration (FAA) and the William J. Hughes Technical Center, adding that she would like more progress and experts in the region. "I think we need to give Stockton and Atlantic Cape Community College greater recognition. I am happy to see they are expanding." Horton also addressed the retired residents in her community of Absecon, saying education is important to seniors deciding on where they will spend their retirement. "Retirees want to be in a community in proximity of higher education."
State Senator Vince Polistina said he has several perspectives, reflecting on the impact of the casino industry from 2008-2011. "We are no longer just focused on casinos because we know tourism alone is not enough." He pointed to the important regional partners in Atlantic County: the medical field with AtlantiCare and Shore Medical Center, in education with Stockton, and in aviation and technology with the FAA, the Tech Center, and the 177th as integral for positive economic growth.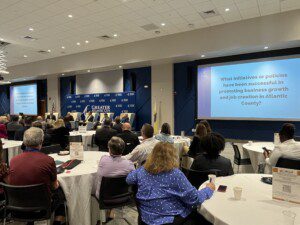 Dr. Oliver Cooke said he thinks there has been remarkable growth since 2012, with a shift away from the focus on gaming only to a more diversified economy. He added diversifying even five percent will help attract development in the region.
Atlantic County Executive Dennis Levinson was blunt, saying the region needs more than casinos. "We know New York is going to get a casino, so how do we compete? We know we have the finest beaches, but we need more. Aviation is how we grow. The Aviation Park has caught on. We have built it, and they are coming; many are already here. We have to capitalize on the airport and the FAA's premier testing facility in the world. This is our future and the future of our children, but we do need more help from the state."
The group offered their thoughts on what has been successful in promoting business growth and job creation in Atlantic County. Mayor Horton said promoting the area has been working. She said home values are up, and that makes residents happy, but also that people who visit the area like what they see and want to be here.
This summer has been decent, similar to pre-pandemic levels, according to State Senator Polistina. While the tourism numbers are rebounding, Polistina said there are challenges, like Pennsylvania gaming. "We also have the challenge of a city that needs cleaning up. We need to focus on how do we get this city to a place where people want to be here," said Polistina, adding that it is time to re-invest in Atlantic City. Dr. Cooke, looking at the metrics, said, "When the numbers for 2023 are in, it will be robust. The motel and hotel taxing look good, but possibly not quite at the level of 2022."
"I think we had an extraordinary summer here in Atlantic County. Atlantic City is only 48 blocks," said Dennis Levinson. He said he would like it if the state could do something about the city takeovers, noting the track records on some of the urban areas where the state has stepped in, such as Trenton, Newark, and Irvington.  "We need to look at clean and safe issues. I think development was done backward when the casinos came in. Everything around the casinos died. They built these enormous buildings with everything inside them so no one would need to leave the casino and go anywhere else. It killed the neighborhoods."
Levinson said they are not just Atlantic City centric: we are building the county and added, let's get our heads on straight here, it needs work. The County Executive pointed to the new indoor water park but called for deals for local residents to make it affordable throughout the year.
Vince Polistina pointed to the investment in various industries and expansion of Stockton as positive drivers for the economy. He added the region needs more state and local partnerships going forward to keep its economy vibrant. Dr. Cooke reflected on the Angelou report from five years ago that outlined the potential success of the region. "There is an aviation piece, and there is also a manufacturing piece. Look at the casino industry; you will see that the tie-in, manufacturing, and aviation are connected. This creates an incubator of development for the people we will need for future job creation. Walking down the supply chain, manufacturing is having a resurgence."
According to Dennis Levinson, there are a number of programs in place to move the job market forward and help people looking for work, as well as employers looking for help with the Atlantic County Economic Alliance and the Workforce Development Board. "We train people, teach them what they need for a job. But there needs to be personal initiative as well, and it can happen. We can give people a leg up, but the good Lord helps those who help themselves," said Levinson.
One area all of the panel members agreed on was the need for clean and safe issues that impact Atlantic City and the county, as well as the reduction of red tape for business owners and potential developers. Dr. Cooke said there is sometimes a disconnect between small business and government, adding, "It seems like a simple solution, but it is not simple." Polistina said he wants to see a plan devised that will help developers and small business owners get through the planning and zoning process. "I think they do not mind spending the money and investing in the region if they know they can get through the process faster and with fewer obstacles. Levinson agreed, saying Atlantic City needs to be more business-friendly and adding that people have to jump through so many hoops at the state level. "We need to make that process easier."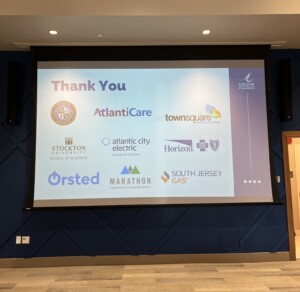 Polistina said creating a more vibrant center in Atlantic County is important and spoke of moving the traffic signal by Harbor Square Shopping Center to provide more access to the mall as well as access to the county's bike path. Levinson called for an overhaul of the bail reform legislation, citing the cost it has burdened business owners. "We have criminals that know they will not face consequences for their actions. We have to work toward that reform."
Despite acknowledging challenges facing the greater Atlantic City region, the members of the panel remained upbeat on 2023 and beyond that Atlantic County is a great place to live and work.