Food trucks are a fun and casual way to enjoy different foods, but when a colorful trailer promising hot mini donuts and fresh-squeezed lemonade pulls up, it is time to make room for dessert. Chip and Ruth Berdinis of Egg Harbor Township have been taking their DonutNV trailer to events since spring and said they are enjoying smiles and happy customers at every stop they make.
Chip Berdinis is originally from Margate and just might have a knack for making sweet treats. His family-owned Kandy Korner in Atlantic City for many years and Chip worked there growing up. "As a way to increase business, my dad had me rolling the saltwater taffy right in the front window. It caused people to look and come into the store. It is similar to our DonutNV trailer. Our customers come up to the window and place their orders. Then look through the window to watch their donuts freshly made. I think being able to see them made adds something special to the DonutNV experience," said Chip. "Ruth and I just love watching how everyone's face lights up when they see the donut machine in action. We are all visual eaters and our trailer's menu offers that experience for the customer. The trailer is covered with pictures of the donut varieties at a child's eye level so they can easily point to the kind they want. Once you choose your topping, your donuts are ready hot and fresh in less than a minute."
Ruth is originally from Delaware and is also right at home in the trailer. She is passionate about taking care of her customers just as she has been throughout her career. From owning her own daycare to being a Marketing Coordinator for a non-profit, Ruth knows how to put the customer's needs first. Having raised two daughters, Ruth is an expert at helping kids choose their toppings. "Sometimes it can be overwhelming with so many choices, but I ask them a few questions about what they like and can help them find a topping they will love," said Ruth. "This really helps the parents, especially when there are 2-3 kids with them."
After the pandemic came along, Chip was laid off like many others, so he and Ruth decided they needed a change. The couple started researching different franchise opportunities. They were looking for something out of the ordinary.
"Practically everyone loves donuts, and the simplicity of creating this fun and delicious food was something we wanted to look into. We did many Zoom meetings and traveled to see the operation in action before we made any commitment," said Ruth. What they discovered is a consistency and quality that provides every customer with a delicious, light, airy donut with a crispy outside and tasty toppings that give it a real pop. "Our customers love our donuts and make sure to tell us. It makes us feel really good about what we are serving when they take the time to send us a comment about how much they enjoyed their donuts and the experience," added Ruth. The other thing they discovered is how much the couple enjoys working together. The inside of the trailer is spacious and spotless, and Ruth and Chip are enjoying their decision to bring DonutNV to the area. "There is simply nothing like this in South Jersey and it is fast becoming the 'must-have' dessert truck", added Ruth.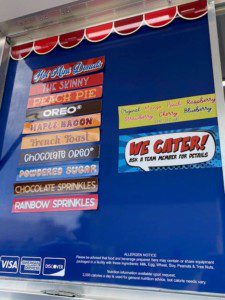 So, what are the hot sellers in fresh donuts? There are so many choices, and they are all tried and true winners. The customer can order a bag that is seven mini-donuts with one topping. A Party Box is 24 mini-donuts with a choice of four toppings, and the bucket also comes with four toppings but has 36-40 donuts. They start with a base donut, but the toppings make them each taste very different. There are standards like glazed, cinnamon sugar, and powdered sugar, or you can get creative and choose toppings like Chocolate Caramel which has chocolate and caramel syrup, topped with mini-chocolate chips and caramel bits. It is a decadently delicious little bite. Kids love the Dirt 'N Worms donut, which is chocolate syrup, topped with crushed Oreo cookies and a gummy worm. Chip said the maple bacon is a real surprise that customers don't seem to be able to get enough of. Just like it sounds, the donut is drizzled with maple syrup and topped with cinnamon sugar and real crumbled bacon. "For many of our flavors, the sweet and savory tastes are a perfect combination for the tastebuds." DonutNV offers 21 flavors but adds special seasonal flavors as well.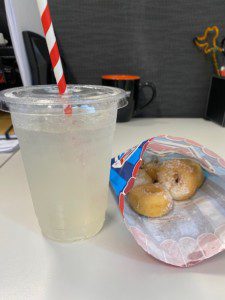 The other delicious treat they are bringing to their events is a perfect lemonade. They keep it simple with three ingredients: freshly squeezed lemons, water, and sugar. The original lemonade is perfect by itself, but customers can add a shot of fruit flavors like blueberry, mango, and strawberry at no extra charge. To beat the summer heat, they can also make your lemonade frozen by blending it with ice for a smooth and refreshing option.
Bayfest in late April was DonutNV's first big event, and while Chip and Ruth were busy with a line all day, it helped to validate their decision to operate the business here in Atlantic County and beyond. "We love to meet new people and make them happy with our donuts and lemonade. We are busy every weekend and many days during the week as well. We are looking forward to doing more events at schools, churches, sporting events, community events, weddings, graduations, and corporate events. "What better way to let your employees know how much you appreciate them than bringing a dessert trailer filled with deliciousness to the work site," suggested Ruth. But the couple added they are community-oriented and like the opportunity to support local groups like non-profits, PTOs, and sports teams. They have donated a portion of their sales to both the Linwood and Northfield PTOs as well as the EHT U-10 Softball team. At the recent Dragon Boat Festival in Mays Landing, Ruth and Chip sold donuts and lemonade to help support Gilda's Club.
The couple received numerous compliments after a "Year End Appreciation" event for All Current, a wholesale electrical distributor. Debra Ottavio, Human Resources Manager for All Current said:
All Current would like to express how great it was to work with DonutNV as well as say how delicious and yummy these mini donuts and lemonade tasted. We used DonutNV for an employee sweet treat day. They were easy to work with, always responded to an email, text, or phone call plus worked with the township to make sure everything was above board. DonutNV showed up on time and provided excellent service. We will definitely use DonutNV again in the future.
They also received high praise from All Current employee Kate C., who emailed Debra Ottavio to say, "Thank you for setting this up Deb. The donuts are very tasty!" Kathy Lee also emailed to say, "Thank you for arranging for this special treat. The donuts were yummy!!"
To have Chip and Ruth Berdinis bring their colorful DonutNV trailer to your next event, call 609-806-5225. They will be happy to explain all your options and promise to "Make Your Party SWEET!"